What do you observe when you look at a campground or resort? - Buyers' Guide 3 of 6
Posted: September 14, 2023
As your campground selling partner, we are bringing buyers and sellers together!

#3 of 6 – What do you observe when you look at a campground or resort?
Do you know what you observe when you look at a campground or resort? There's a lot to take in – from the land and its surroundings to what lies beneath the ground and even up in the air.
You need to carefully examine every aspect as it can greatly impact your experience and opportunities. A few items to think about:
For instance, what do you visually perceive in this environment? You'll see neighboring properties, and depending on the time of year, the landscape may change. Consider how your senses will be affected by your location, as well as the activities and operations of the business.
Furthermore, your potential neighborhood should be taken into account. Are there nearby farming operations involving hogs, cattle, or other animals? Are there expressways or dusty roads that may influence air quality and accessibility?
Think about the effects of wind, temperature, and rainfall on the area. Are there any nearby landfills or industrial activities that could produce noise or other disturbances? Does the location fall within a bombing range or flood-prone area that might pose safety risks?
Additionally, consider the long-term construction projects and how they could impact your experience. Take note of the changing traffic flow patterns and the presence of trains and aircraft that might cause noise disruptions.
Being aware of these factors and carefully considering them will help you make informed decisions about the campground or resort and its suitability for your needs and preferences.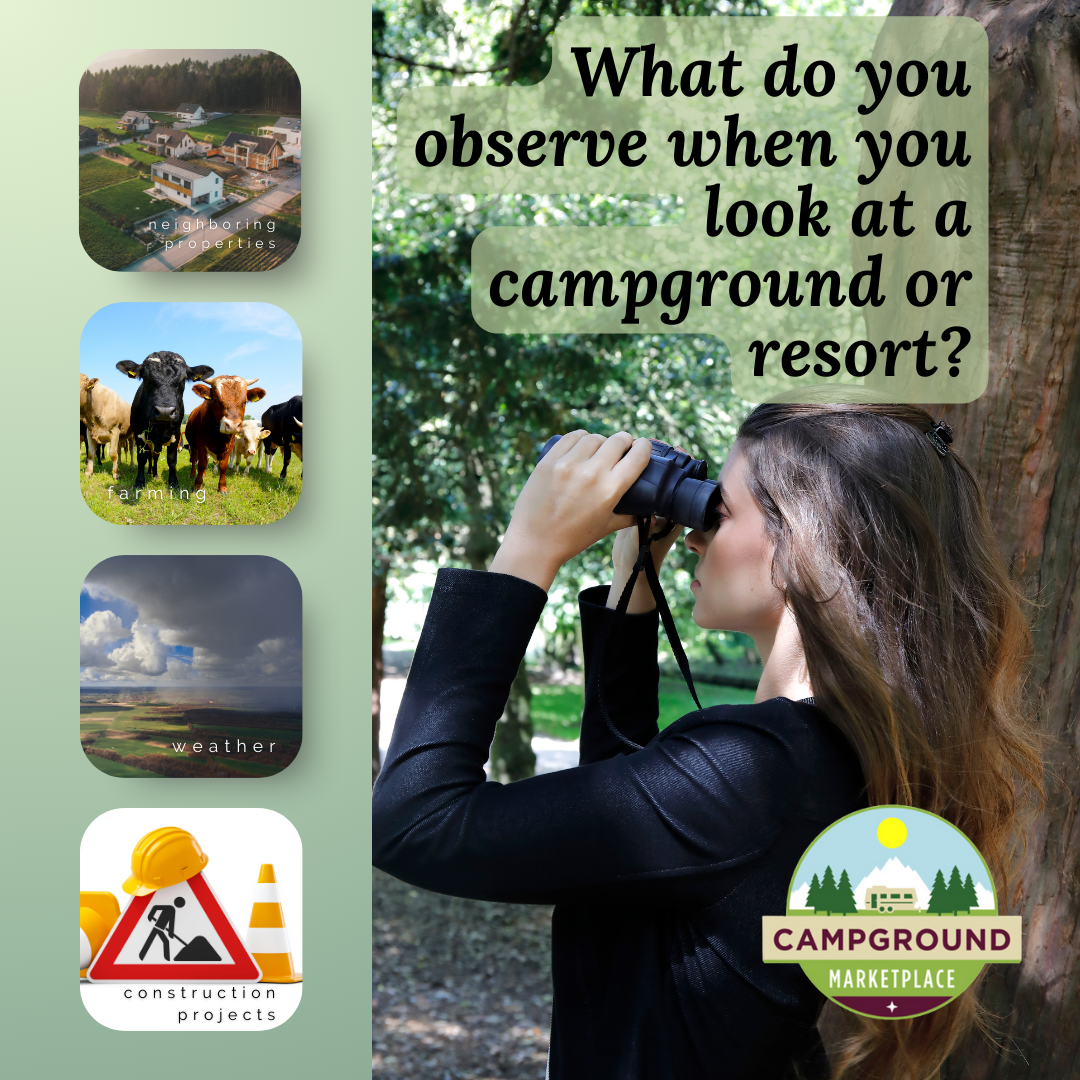 Let's connect today and discuss how we can assist you in buying your dream campground, RV park, marina or resort. Call or email us today!
(616) 957-2496 | info@thecampgroundmarketplace.com
Contact Us